Your Central Texas Mulch & Compost Headquarters
We Now Carry Texas Native Mulch!
Our weed-free Hardwood Mulch is made to provide lasting color. The soft, easy to spread consistency, lays smooth in landscape beds for a great looking finished landscape.
Made from only Select Hardwood trees
Double Ground for best consistency
Aged 12 Months for Optimum Color
Watered with Compost Tea to add Beneficial Nutrients
Choose From 2 Different Mulch Varieties
Premium Texas Hardwood Organic Mulch
Black Label Organic Mulch
Choose From 3 Different Compost Varieties
Texas Select Soil Amendment
Premium Planter's Compost Mix
Organic Cotton Burr Compost

Texas Native® Hardwood Mulch
An all-natural, double ground hardwood mulch that has been aged 9-15 months to create a long-lasting and vibrantly dark color that stays consistent year in and year out. Our hardwood mulch doesn't wash away and it aids and improves soil conditions by adding natural hummus and nutrients to soil as it decomposes.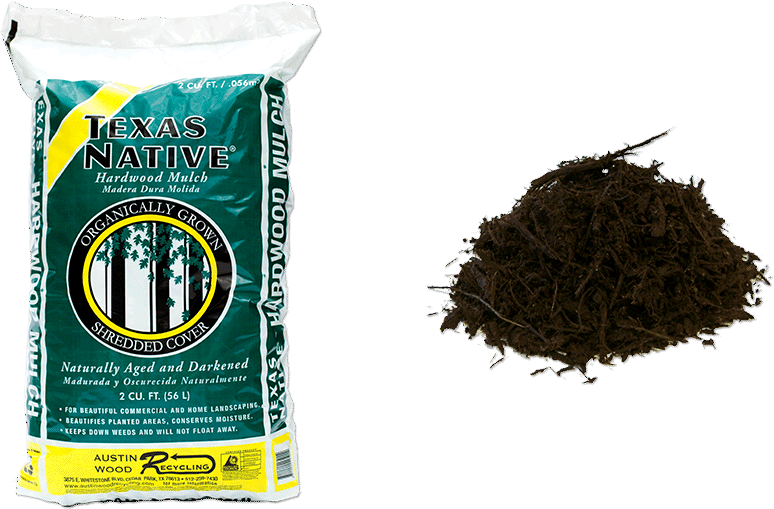 Texas Native® Black Label Mulch
Our Black Label is an all-natural blend of double ground hardwood mulches that have been colored to create a deep, rich, dark- black mulch. It is safe to use around pets and children because we only use non-toxic, biodegradable dyes that have been approved by the Environmental Protection Agency.